07/04/2019
Several methods to split MKV file into multiple parts or delete part of MKV file.
Cut a video with MKV Cutter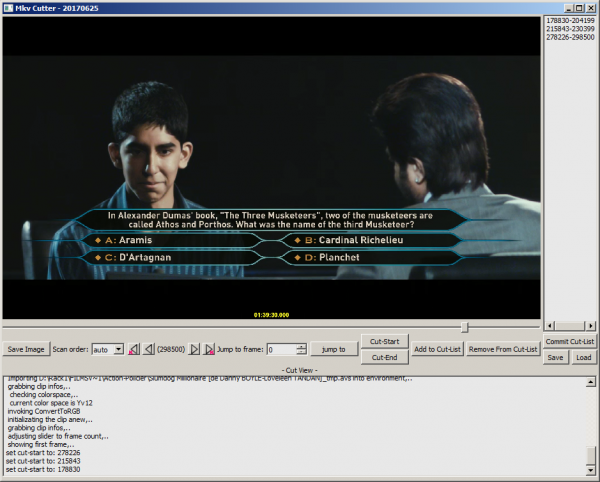 To cut a video quickly without re-encoding (and without loss of quality), you can use the free software MKV Cutter. This software has the advantage of allowing merging scenes by selecting the start and end scenes.
Here are the steps to follow :
Run MKVCutter
Drag the MKV file to the software. If the file does not open, remove the accents in its name
Select the zones to keep (by clicking "cut-start" and "cut-end")
For each zone, do "add to cut-list"
Then "Commit Cut-List" when all the blocks have been added
Click on "Output", specify the destination file
Click on "Temp folder", specify the temporary directory
Choose"Next" and wait.
If your original file is not a MKV, you can convert AVI or MP4 file to MKV. For WMV, you can refer to the ASFBin.
MKV Cutter only supports H264 encoding, H265 (HEVC) crashes the software when generating files. You can then try Avidemux or Simple Video Cutter (below).
Finally, MKV Cutter should not be placed in a directory that is too long or contains spaces..
Cut a movie with Simple Video Cutter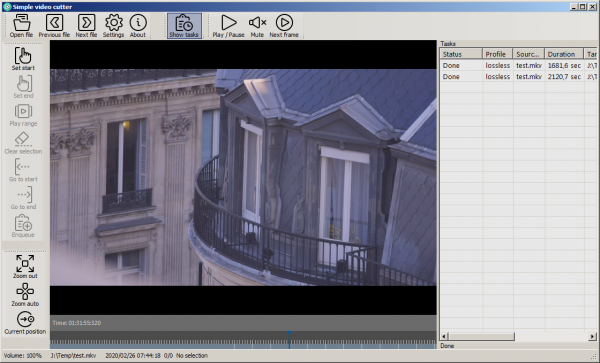 Simple Video Cutter allows you to extract each scene from a file without merging them. It reads MOV, AVI, MPEG, MP4, WMV, RM files as well as MKV files, contrary to what the file loading screen might suggest, which does not show it.
Installation of Simple Video Cutter
Download Simple Video Cutter and ffmpeg
Unzip the files in two separate directories
Launch Simple Video Cutter
Specify the path of ffmpeg
Specify the video export path
Export a part of a movie
Launch Simple Video Cutter
Click on "Open File"
The MKV extension is not provided by default, enter "*.mkv" in the filename area, validate, and select your source file
Click, on the top bar, on "Show tasks" to see the various exports to come
Select the start of the area to extract and click on "Set start"
Select the end of the area to extract and click on "Set end"
Click on "Enqueue": the software will then create a file in the destination folder.
You can select a new area or exit the software if you have finished your exports
Note that the selection of start and end areas is less precise than with MKV Cutter because the software does not offer a frame skipping.
Dernière modification le
07/04/2019
-
Quillevere.net